New Volkswagen ID.4 Electric Vehicle Miami Florida
Get Ready for an Electric Ride That Dominates the Open Road
2021 Volkswagen ID.4 EV

CAPACITY
ENGINE
TRANSMISSION
DRIVETRAIN
STARTING MSRP
2021 Volkswagen
ID.4 EV PRo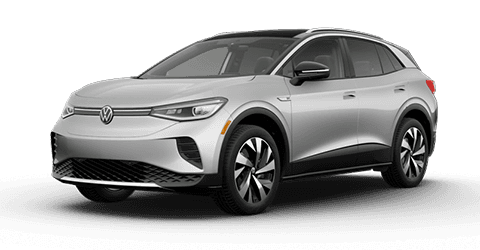 CAPACITY
ENGINE
TRANSMISSION
DRIVETRAIN
STARTING MSRP
2021 Volkswagen
ID.4 EV First Edition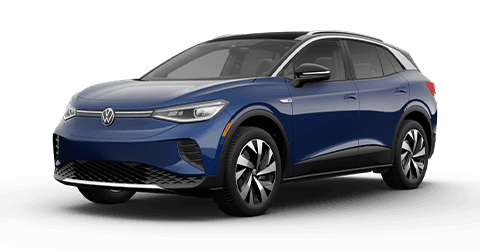 CAPACITY
ENGINE
TRANSMISSION
DRIVETRAIN
STARTING MSRP
What It's Like to Ride with Supercharged Good Looks
With clean, smooth, and striking lines that not only grant a bold look but also serve an aerodynamic purpose, the 2021 Volkswagen ID.4 EV is the fuel-efficient SUV you want to drive. In fact, it's one of the road's sleekest SUVs, especially when you opt for the available Gradient package with the silver trims and accents to contrast with the black roof to draw in attention for all the right reasons. For even more refinement, the available LED projector headlights and illuminated Volkswagen Badge craft a flashy look that no other SUV can pull off quite like this EV. Finish off the look with one of four available colors (Glacier White Metallic, Moonstone Gray, Mythos Black Metallic, and Scale Silver Metallic) to ride around exuding your personal style.
Step inside this electric SUV, and you'll find an efficient performance that's also ready to pamper you when you're inside. Try out this EV innovation upon release by visiting South Motors Volkswagen and test driving the 2021 Volkswagen ID.4 EV.
Taking Charge on the Roads for a Legendary Ride
Powering your drives in the 2021 Volkswagen ID.4 EV is an electric motor that's designed to take you on legendary and unforgettable cruises with 201 total system horsepower for a spirited ride virtually anywhere. Plus, with manufacturer-estimated 250 miles of range on the Pro-S and 1 st Edition models, you'll cruise all around Miami, Cutler Bay, and beyond to run your errands or commute through the week. When it's time to recharge, the home charger and L2 Public charger can refill 33 miles of range within an hour for a quick top-off or help you get ready for a big ride in the morning. Meanwhile, the public DC fast chargers will help you refill 60 miles in 10 minutes or jump from 5% - 80% in roughly 38 minutes, allowing you to get a relatively full charge in the time it takes to do some quick shopping or stream an episode of one of your favorite TV shows.
When you're ready to embark on a rugged adventure, the available all-wheel drive helps you grip the road when you need an extra boost in handling—perfect for traversing over slick surfaces in the rain or assisting you in remaining in control over gravel or loose-grade paths. You can also tow up to 2,700 lbs to help you take a dirt bike, ATV, utility trailer, or light boat with you to your weekend getaways.




Kick Back & Get Comfortable
Comfort comes standard with the Climatronic® Dual-Zone Automatic Climate Controls, keeping you AND your passengers in mind as you each ride around at your ideal temperature at the same time. Meanwhile, the heated front seats and heated steering wheel come standard in the Pro trim, helping you remain cozy with a near-instant surge of gentle heat circulating through you on breezy and wet mornings. Plus, 99.9 cubic feet of passenger volume helps you stretch out and relax when you're stopped or in the passenger's seat to enjoy a pampered ride.
For connecting to your media, the standard Discover Pro touchscreen system comes standard with navigation to help you find the fastest routes to places Kendall while avoiding jams—even if you don't have your phone on you. Meanwhile, Bluetooth® technology syncs you to audio streaming so that you can jam out to your favorite playlists or immerse in a podcast during your morning ride to the office. While you're on the road, top off your mobile device without a messy bundle of cords getting tangled or even damaged along the way thanks to the Pro trim's standard wireless charging and wireless connecting.
Boost Your Ride's Safety with IQ Drive
To help you cruise around Florida with sensors working as an extra set of eyes for you, IQ Drive looks out for obstacles on virtually every road, with features like Blind Spot Monitor (Side Assist) warning you of drivers in blind zones in surrounding lanes when you want to merge, helping you avoid a side collision. Meanwhile, Lane Assist alerts you when you accidentally leave your lane to help you remain centered and avoid cutting off other drivers. For even more safety, Rear Traffic Alert, Adaptive Cruise Control, Front Assist, Travel Assist, and Rear Traffic Alert warn you of detected dangers in the street to assist you in cruising collision-free.

The Future of EVs… the 2021 ID.4 Awaits You in Miami
With such innovation in terms of performance, comfort, and safety, you won't want to miss out on cruising in a sleek and action-driven electric Volkswagen. Be among the first to travel in this futuristic EV by heading to South Motors Volkswagen and learn more about the 2021 Volkswagen ID.4 to see how a charged-up ride will boost the way you commute. As your local Volkswagen dealer, our team is here to answer any questions you have and keep you updated on the 2021 ID.4—we'll even walk you through known trims and packages so that you can ride at a pace tailored to you.